While the boys are gazing at the beautiful landscape in which we now live, we drive through Luxemburg to Müllerthal. We're planning to take a walk along part of the Müllerthal Trail. Luxembourgers affectionately call this part 'Little Switzerland' because of the beautiful forests, rocks, and waterfalls you encounter along the way.
We park our car near Brasserie Heringer Millen. This is a great place to start your walk, make a stop in the bistro or, first take a pit stop in the clean, public toilets. We chose to explore a part of the local hiking trail w6. Although our kids are still real 'city kids', they manage to keep a good pace. They enjoy the views, climbing over the rocks and, walking in the shade on this hot summer day. The parking was quite crowded, but fortunately, the path is quite calm. This allows us to keep enough distance from the other tourists. That is why you don't see any mouth masks on the pictures ;-). Come as early as possible if you like to take a photo (very Instagrammable!) at the Schiessentümpel waterfall because it attracts a lot of tourists who don't necessarily walk the trail.
After the initial hike, we decided to drive to Bergdorf to explore the rock formations. The views – even near the parking lot – are phenomenal here. But because the boys are getting tired in the meantime and according to other hikers the hike is a bit more difficult, we take a short look around. But even this is worth it. To end our day of hiking and exploring, we treat the boys to ice cream in Echternach.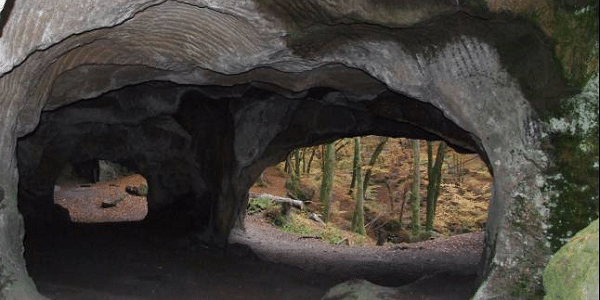 Explore the region with different routes and shorter walks
Do you like to explore the region yourself? The Müllerthal Trail is a 112 km hiking trail along rocks, forests, valleys, and open pastures. It's a beautiful walk through this varied landscape, also known as 'Luxembourg's Little Switzerland'. You can start your hike at different points. There are three routes, each 36 – 38 km long and several shorter lokal hiking trails. On the map below you can see the different loops.
Let's go!
Check mullerthal-trail.lu for detailed information on the different routes and trails. You'll also find tips for cultural sites along the way, and pic nic and barbecue areas.
Leave a message below or share your thoughts on our contact page, Facebook, or Instagram. We look forward to hearing your tips or exchange experiences.
Looking for inspiration? We've collected some great tips from travelers in the region on Pinterest.