Whether you're looking for a quick bite or a more elaborate lunch, you'll definitely find something in Arlon. These 5 addresses offer great ands slightly more original lunches. I'm talking about a delicious piece of quiche, a savory Breton pancake or an American bagel with soup.
US Coffee
US Coffee… What's in a name? This place offers typical American specialties like fresh bagels, donuts, and wraps. This coffee and soup bar is a great spot when you feel like a simple and no-nonsense breakfast or lunch. Pick your poison: a nice cup of coffee, tea, one of their famous hot chocolates or a milkshake. Combine your drink with the American classic: a donut. Fancy a savory bite? They offer a great selection of bagels, wraps or a daily fresh soup.
Tip: decorate your own donuts during one of the workshops.
Rue du Marchee Aux Legumes 3, 6700 Arlon
Maison Knopes
Maison Knopes is some sort of coffee and tea heaven in Arlon. If you really apreciate a nice cuppa, this is the place to be. Choose one of the classics or take your pick from the many hot or cold coffee and tea specialties. My favorite: the Mexican coffee with chocolate and cinnamon. As a tea lover I usually need half an hour to choose from the wide (loose!) tea options. But in addition to the large beverage variety, this is also a delicious lunch spot with a slightly original menu with delicious seasonal salads, savory pancakes or a croque with Orval.
Tip: you can buy your favorite coffee or tea variety in the adjoining shop.
Grand Place 24, 6700 Arlon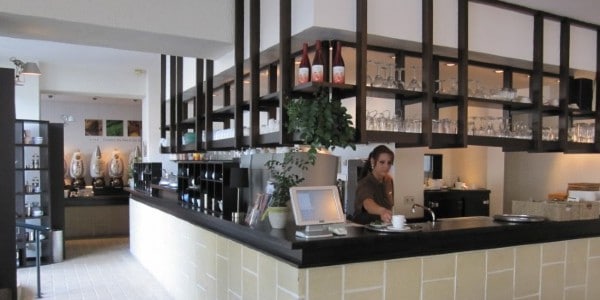 Par amour du bon pain
Par amour du bon pain is located on a busy road outside the city center. But if you are in the neighborhood and craving for some savory of sweet pie, this is definitely the place to be. Les tartes de Francoise are amazing. Eventhough the road is quite noisy, this place is really cosy on the inside. Our tip: choose a few pieces of quiche to share. And also: be prepared to take half of it home afterwards. Still room for dessert? A piece of pie afterwards is definitely worth it! Rather looking for breakfast? This place opens at 7.30 am.
Route de Longwy 599. 6700 (Weyler) Arlon
Pause Gourmande
Pause Gourmande looks tiny on the outside, but once inside it's quite spacious. Their are the richly filled Breton pancakes. Whether you prefer simple, down to earth food or rather exotic fillings: you'll definitely find one you fancy among the wide range of salty and sweet pancakes. Do you prefer something else? Pause Gourmanse is also known for its burger specialties. If you're thinking of dining here in the weekend or evening, making a reservation might be necessary.
Rue des Faubourgs 5, 6700 Arlon
Le Twins
Le Twins is located on the largest square in Arlon. This place offers local specialties such as boulettes à l'Orval, simple meat dishes, salads or a hamburger. Fun thing: compose your own hamburger from the proposed ingredients. In the summer or even in early autumn you can relax on the (heated) terrace. Inside the place is small, but cozy. This makes booking, especially in the evening, a must. Twins is also a nice place with children because there is a spacious playground not too far away. Please note that you are not in front of a closed door: because of the roadworks on Place Léopold and the measures against corona, they adjusted their opening hours.
Place Léopold 7, 6700 Arlon
Leave a message below or share your thoughts on our contact page, Facebook, or Instagram. We look forward to hearing your tips or exchange experiences.
Looking for inspiration? We've collected some great tips from travelers in the region on Pinterest.