5x water & fun in the Gaume
Dipping your feet, building a dam, or even swimming for a bit? What could be more fun than cooling off in a forest or in the water with this hot weather? But don't feel like going among the crowds? These 5 'heatwave hotspots' are fun places that are not too crowded. All spots are obviously to be found in the Gaume region and therefore ideal if you're here on vacation. But I'd like to think they also have their charm on cooler days.
Just a stone's throw away from our holiday home in Lacuisine lies the picturesque 'Plage de Lacuisine'. A lush green lawn stretches out along the tranquil banks of the Semois, the perfect spot to kick off your shoes and bask in relaxation. Fancy a refreshing dip? The water quality of the Semois is among the best in Belgium. For those seeking a bit more activity, there's ample room to frolic and play. Plus, this spot serves as an official kayak stop in Lacuisine – making it an ideal location if you fancy bringing along a boat or SUP.
Tip: Want to mix water fun with an amazing nearby walk? Check out our new summer hike!
location: road to the hotel 'Beaux Rivages', Rue des Iles 14, 6821 Florenville.
distance from la trottinette: 300 m – 5 min on foot
Discover the hidden gem of Gaume – La Plage de l'Antrogne. This is where the tranquil Antrogne and Semois rivers meet, inviting you for a refreshing dip, a peaceful boat ride, or an afternoon of dam building. Covered and open picnic areas and a public barbecue provide the perfect setting for your summer day out. Kick off your adventure on the 'Sentier des Songes', or Path of Dreams, from this cool oasis. Even though we're showing you this spot in cooler times, it remains a delightful place to be at any time of the year. Herbeumont awaits you!
location: Plage de l'Antrogne (Google Maps) – Rue de Plannois, 6887 Herbeumont
gps coordinates 49.767772623764785, 5.25348073239075
distance from la trottinette: 11,3 km or 20 min by car
Lac de Conchibois, Saint-Léger
Summer in Saint-Leger means blissful days by the lake of Conchibois. Here, everyone can enjoy supervised swimming in the Blue Label awarded waters at no cost. The fun doesn't stop there: raise your adrenaline at the skate park or while playing a round of paintball. Whether you're seeking tranquillity with a lakeside walk, or fancy a cosy barbecue at the public grill, Conchibois caters to all tastes. Don't forget to quench your thirst at the cafeteria.
more info: https://www.saint-leger.be/loisirs/tourisme/lac-de-conchibois
location: Rue du Stade 1, 6747 Saint-Léger
distance from la trottinette: 37 km – 35 min by car
Planning a visit to Arlon? Add a touch of green to your city tour. In the charming village of Clairfontaine, you can bask in the calm waters of the Eisch river. A stone's throw away from the abbey, our favourite spot in Arlon is tucked under a canopy of leaves – nature's own air conditioning. While the water is too shallow for swimming, it's the perfect spot to sit on a log with your feet in the water or build a dam (remember to dismantle it afterwards) and unwind. This serene hideaway also marks the start of 'la transfrontalière', a rejuvenating walk along the border of Belgium and Luxembourg. Experience the best of both worlds in Clairfontaine.
location: Rue du Cloître, 6700 Arlon (Clairfontaine – next to ABC Dance Studio)
distance from la trottinette: 50 km, 43 min by car
Waterparc and playground in parc Monterey, Luxemburg (LU)
A trip to Luxembourg City is a must during your Gaume holiday. But city tours can be tiring in the heat, especially with children. Our solution: pair a short walk through this enchanting UNESCO heritage city with a visit to the (water) playground in Monterey Park (Beim Piratenschëff). This beautifully designed, shady playground features a large pirate ship, slides, swings, and a fantastic water play area. With well-maintained restrooms, ample seating and picnic tables, and a cosy café, it's the perfect spot to guarantee both adults and kids an unforgettable day.
Tip: up for some more exploring? Our hike 1001 magical views of Luxemburg is a must-do!
location: Aire de jeux Monterey – Pirate ship playround, 45 Av. Monterey, 2163 Luxembourg
distance from la trottinette: 68 km, 54 min by car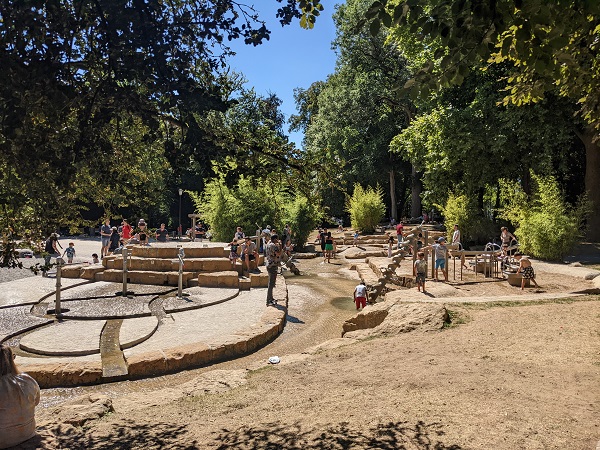 Safe and Refreshing: Swimming in Gaume
With these five top spots in (Belgian) Luxembourg, we promise you an outstanding day for you and your family or friends. Want to be sure of your safety? Confirm the consistently excellent water quality of our swim spots by checking out this map. It provides an overview of all permitted swimming locations and their water quality. Since this year, you can also swim again in Lake Neufchâteau.
Do you prefer a swimming pool? No worries, there's something for everyone. Bask in the sun at the outdoor pool of Camping Florenville, plunge into the indoor pool in Jamoigne, or experience the buzz of the Aquatic Center in Virton. In Gaume, refreshing fun is never far away!
Leave a message below or share your thoughts on our contact page, Facebook, or Instagram. We look forward to hearing your tips or exchange experiences.
Looking for inspiration? We've collected some great tips from travelers in the region on Pinterest.