One year and so many experiences richer
September 1, 2021! Our boys have been going to school here for a year now. We've even lived here for a bit longer, It seems unreal. But time flies when you're having fun, right? Our kids are pretty much bilingual. Speaking French feels more and more normal, even to us. Luxemburg is our home now. We recently even opened our own vacation home in 'la Gaume'. Time to look back on our path, and our goals, and of course were looking ahead as well. Starting with a fresh start for this blog.
'Expat experiences' becomes 'our story'. What's in a name you might think? Although we have a lot of similar experiences with expats, we are not expats. We are a family that decided to take an opportunity, to seek out and explore new horizons. We want to share those experiences with people who have questions, their own dreams of taking the plunge or are just curious. That'd why we've created a separate space for these people. The main focus of our blog will be on tips exploring the region together.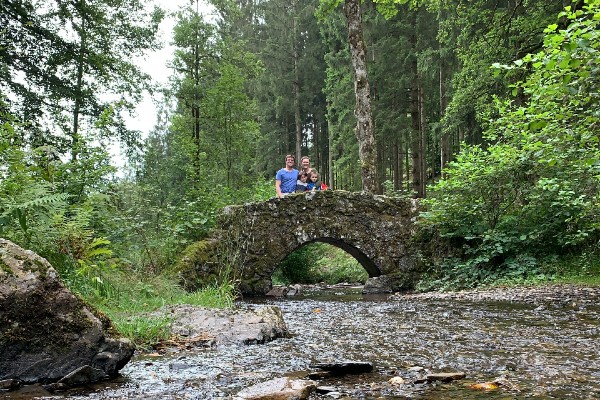 We have fallen in love with the Gaume region, the people who live there and its beautiful nature. . That's why we've put together a guide to the region with "Adventure in the Gaume". The map makes it easy to find all the sights and their location. Our father-in-law and motorcyclist René was happy to share some of his favorite rides in the area.  All tips will also be provided with their own, more extensive blog post. Each one with our personal touch and a link to our home in Lacuisine.
Moving to Arlon was the right choice. Don't get me wrong, Antwerp remains a fantastic city. We still come home a little every time we visit. But life here is so much richer. Just as busy, but less hurried and hectic. Arlon is also ideally located in terms of commuting distance from Luxembourg. Admittedly, the boys had to work hard last year. They didn't even complain, they just took the challenge and dealt with it. We are incredibly proud of of them and what they've achieved in just one year. I really hope that we can continue to move like this.
In the future, I plan to share more concrete tips on how you can choose your region, what you need to consider as a "cross-border worker", how we are building our network and how we do things concretely. Be sure to let me know what questions you have. Who knows, I might be able to help you and you might provide me with material for my next post!
more personal experiences
Leave a message below or share your thoughts on our contact page, Facebook, or Instagram. We look forward to hearing your tips or exchange experiences.
Looking for inspiration? We've collected some great tips from travelers in the region on Pinterest.
looking for an adventure in the Gaume?
Looking for a weekend getaway just a few hours drive from home? Maybe a weekend in Lacuisine is what you're looking for. Our little house is (if we may say so ourselves) a very nice escape. You park right outside the door and are close to everything (excursions, stores and restaurants), yet also away from it all. Do you still want to come? Check the calendar to see if the Arel is still available and come over! We would love to host you.